3 reviews
A nod to both woodworking and forestry, the Walrus Oil Sawblade patch perfectly compliments the camo/black mesh trucker hat design. Material is comfortable and durable, so you can wear it while working in the field worry free. And if it gets covered in dirt and sawdust, it's super easy to clean! 
- Adjustable Strap
- One Size Fits Most
- Camo Pattern May Vary
---
Customer Reviews
Customer Reviews
Write a Review
Ask a Question
03/07/2022
Randy T.

United States
Saw blade cap
Great, fast shipping great people to work with, hat fits and looks good. Thanks Walrus oil folks!
02/15/2022
Ben G.

United States
Above average sorta
Hat looks killer, fits killer, but contains zero walrus oil. I have rubbed the hat on several boards and nothing happens. Also it's hard to find. If you set it down in your shop you'll lose it, could be the green color scheme. Would buy again. Facts.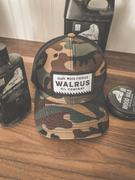 02/14/2022
Colin S.

United States
Love my new hat
I have been told by a few women that I look hottt in my original walrus oil had. Had to get another. 2nd hat I got in over 14 years. I don't get hats. Everrr …But when I do it's a walrus oil hat