Made for cold and brutal weather and those who work outdoors. Our herbal formula soothes, moisturizes, and protects with nutrient rich Almond Oil, Jojoba Oil, Coconut Oil, Black Currant Seed Oil, Shea Butter, Vitamin E, and Candelilla Wax. Lightly scented with Clove Flower Oil and cooling Peppermint Oil. Made with only plant-based ingredients. Oval shaped stick for easy carry.

Due to the high melting point of Candelilla Wax, our lip balm is also ideal for forest fire fighters or those working in high-heat environments.
Product Anatomy

Almond Oil and Coconut Oil moisturizes dried and cracked skin.

Jojoba Oil offers a waxy barrier from the elements, helps lock in moisture, and can reduce redness caused by dry skin.

Black Current Seed Oil, a natural antioxidant known to help regenerate damaged skin cells.

Shea Butter, rich with Vitamin A and E, also helps soothe dried lips.

Candelilla Wax soothes dried lips and provides a strong barrier against the elements.

Peppermint Oil and Clove Flower Oil help soothe irritated lips and smells wonderful together.

Vitamin E, plant-derived natural preservative that also helps with inflammation. 

Customer Reviews
12/03/2019
Jonathan F.
United States
Great product
Awesome product! Will be buying much more!
09/28/2019
Jeremy P.
United States
Superior to the Leading Brand Competitors
Prior to Logger's Lip Balm, I had tried every lip balm from all the leading brands available. 2 years ago, I settled on Labello Men from Germany. After trying Logger's Lip Balm realized that I really had just "settled" for Labello, which is mediocre in comparison to Walrus Oil. I recommend Logger's as a solid substitute for the leading brand lip balms.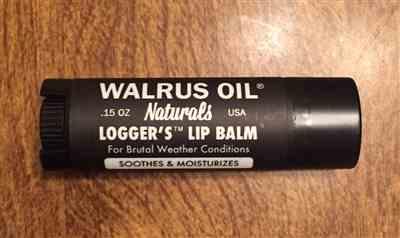 05/22/2019
donovan D.
United States
Great Chapstick!
Hopefully i never need to change brands. they just need to RESTOCK to meet the demand.
Best lip balm ever!
I found this brand on Amazon while looking for vegan lip balms. I'm sensitive to beeswax and haven't found a vegan lip balm that I like, until now. This lip balm glides on easily, doesn't feel greasy or sticky, and the smell is pleasant and not too strong. It's shaped like an oval instead of a circle, and it fits in pockets really nicely, without having to worry about it rolling up. My lips stay hydrated for a long time after applied, and it feels like my lips are healing from use, so I need it less frequently. They were all sold out on Amazon, but I'm glad the product is still accessible. Please consider putting this lip balm back on Amazon because the shipping process there is streamlined for me, and as an Amazon Prime customer, I don't have to pay additional shipping. All in all, this is a well designed product, and I'll be a forever customer now.