11 reviews
SOLD OUT  - BACK IN STOCK JANUARY 2021

Walrus Oil's Furniture Butter penetrates and seals with plant-based polymerizing oils and hard waxes, pulling out natural wood colors and tones, and locking them in permanently. The hard waxes add sheen and provides water protection after fully cured. Furniture Butter can be used as a completely standalone product and "one n done" solution. It also can be used after our Furniture Finish or before our Furniture Wax. Handcrafted with Perilla Seed Oil, Polymerizing Safflower Oil, Hemp Seed Oil, Carnauba Wax, Candelilla Wax, Pine Rosin, with a hint of Lime.






Polymerizing
Matte to Satin Finish
Lightly Scented
100% Plant Based
Food Grade Ingredients
Project Ideas
Tables, Chairs, Bookcases, Coffee Tables, Picture Frames, Wooden Boxes and more.

Application
Use on hardwoods that are sanded between 220 - 400 grit. The lower the grit, the deeper the oil will soak. The higher the grit, the smoother the wood will feel. To prevent raised grain, always use the "sand, wet, sand" method. Apply thin layer of oil until entire surface is covered. Wipe away excess after 24 hrs. Repeat until desired number of coats and look is achieved. After final coat, allow 24 - 48 hrs for surface to become dry to touch. May take up to 1 week to be completely dry to touch and up to 4 weeks to be completely cured. While curing, it's ideal for the wood piece to be kept in a temperature controlled environment. Humidity and high heat can prolong cure time. Keep liquids off surface for up to 4 weeks.

Product Care
For best results use by expiration date on bottle. Store at room temperature or in a cool and dry place. Keep bottle sealed when not in use.
---
Customer Reviews
Customer Reviews
09/08/2020
Nate J.
United States
Simple is an understatement!!
Used after the Walrus Oil Furniture Oil. Created a perfect waterproof surface. Enhanced the grain on a cherry desk!
08/16/2020
Matthew T.
Canada
amazing
love this stuff, easy to apply, beautiful and doesn't stink, what else could i ask for?
08/11/2020
Ken H.
United States
Delightfully Easy & Effective
Super easy to use in both application and cleanup. Gave the red oak pieces I was working on a beautiful, deep honey color and made the grain pop. Gave the fir/pine (unsure which, it was sitting in the basement) a slightly more yellow, but very warm finish. The softwood had a red core and it toned it down a bit more than I would have liked, but made the knots and burls on each really stand out beautifully.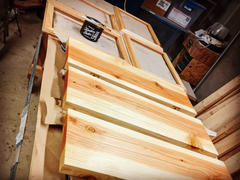 07/13/2020
ANDREW T.
United States
Amazing
This Furniture Butter worked great! Sand to 120, water pop, then sand 220, apply Furniture Butter. It came out super smooth and had a great sheen. Will definitely be using this more.
06/29/2020
Nicholas G.
United States
Great finish
Easy to apply, I love the look and feel of this finish!