67 reviews
Did you know wooden cutting boards and butcher blocks are not meant to be disposable but can actually live as long as sea turtles? With proper design, finishing, and maintenance wooden cutting boards can be passed down through generations. And that's where Walrus Oil Cutting Board Oil comes in.

Our Cutting Board Oil is 100% Food-Safe and free of toxins and synthetics, designed for new builds or for reconditioning. And finally a heavy-duty cutting board oil that doesn't require multiple coats! It will leave your board with a silky smooth finish, rich color, and a little shine. The perfect ratio of ingredients locks in the natural wood tones while repelling water and food particles when in use. And it only takes seconds to apply.


Semi-Gloss Finish
For New or Restoration Projects
Not Scented
Project Ideas:
Cutting Boards
Butcher Blocks
Charcuterie Boards
Bowls, Spoons, and Knives
More Product Details
The very first product we ever released was our Cutting Board Oil formula, originally just called "Walrus Oil" since it was our only product at the time. The delicate ratio of ingredients makes it excellent for production woodworking since it only requires one coat of finish to achieve a lustrous look and feel while providing water protection. Our blend of Coconut Oil and Pure Mineral Oil is the perfect viscosity to deeply soak into the wood while not washing out too easily when a cutting board is used and cleaned daily. The beeswax provides water repellant qualities while also giving the surface a more smooth and color-rich finish. The added Vitamin E helps protect the wood from bacteria growth while the wood comes into contact with food. Our Cutting Board Oil is also completely shelf stable and will not go rancid. Our finish contains no dyes and only brings out and locks-in the wood's natural wood colors.

For New Wood Projects
When using our Cutting Board Oil for new wood projects, be sure to sand at 320 to 600. To prevent raised grain, before sealing some woodworkers will do the sand-wet-sand method, meaning they'll sand the board, wet it, let it dry, and then do a final sand before applying a finish.

How to Maintain or Restore a Cutting Board
Cutting board maintenance and restoration is relatively simple. Clean the cutting board first with light soap and lukewarm water, then allow plenty of time to dry. If there are deep knife cuts or if any mold is visible, sanding the board down will be necessary using an electric orbit sander or planer if available. After sanding all surfaces simply apply a coat of our Cutting Board Oil and allow it to dry for 12 to 24 hours. Wipe away any excess oil after cure time.

Safe for Food-Contact Surfaces
Every product manufactured by Walrus Oil is 100% Food-Safe. All ingredients are considered GRAS (generally regarded as safe) by the FDA for food-contact surfaces. Our Cutting Board Oil can be used on kitchen butcher block counters, cutting boards, wood utensils, and even baby toys.

Using Cutting Board Oil with Another Company's Products
Our Cutting Board Oil can be used in conjunction with most other oil-based finishes or epoxy and resins, such as when making a "river board" or when using wood pieces that have had cracks and holes filled with epoxy.


Example cutting board photos are by KRA Kreations out of Grass Valley, California. Since 2015 they have been practicing sustainable woodworking by handcrafting cutting boards, bowls, and knives, from recycled skateboards and hardwoods.
---
Customer Reviews
Customer Reviews
07/27/2020
John R.
United States
New product for serving board.
Excellent. Easy to rub on, remove any excess the following day. Results look great.
07/24/2020
John S.
United States
Great cutting board oil.
It's easy to apply and works great, we even used it on our old oak dinning table. It prevents coffee stains on our cutting board thats under our coffee pot. I know it calls for one coat but I use 3 coats and let it dry for 24 hours in between coats on new cutting boards I make.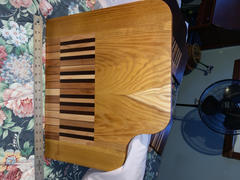 07/08/2020
DeWayne H.
United States
It was great. Made the qood pop and stay that way.
07/08/2020
William E.
United States
First time using board oil love product.
Great product overall and left nice finish on cutting board I made. One thing that was a minor item noticed was the bottle thread finish orientation to the closure orifice was such that the pouring orifice was turned toward the handle. Didn't really bother me as I poured with pour spout cap off. The molds for the bottle should be checked to ensure thread start matches final pour spot closed and applied location. I work in package R&D so I notice silly things like this. Overall love the product and will be making a batch of boards soon to use the balance of oil. I would like to try the board wax also at some point. Check out finished board on my IG page www.instagram/w_russellwoodhaus
06/27/2020
Pete E.
United States